BCOM 1st Year Business Communication Notes Question Answer Study Material PDF
BCOM 1st Year Business Communication Notes Question Answer Sample Model Paper :- hii Friends this Site is very useful for all the student BCOM, BSc, BBA, BCA, MBA, etc. In this site you will find all Subject Study Material Sample Model Practice Paper Examination Papers Notes Question With Answer Mock Test Papers Chapter Wise Unit Wise Available All the Content. Download Online Free PDF
---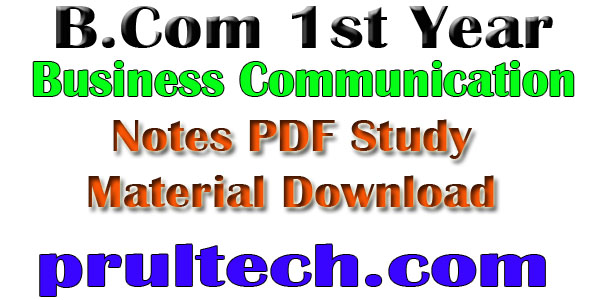 ---
Business Communication (Book Code : C–101)
Unit-1 : Introducing Business Communication:- Basic Forms of communicating; Communication models and processes; Effective communication; Theories of communication; Audience analysis; Principles of effective communication.
Unit-II : Self-development and Communication:- Development of positive personal attitudes; SWOT analysis; Vote's model of interdependence; Whole communication.
Corporate Communication:- Formal and informal communication networks; Grapevine; Mis-communication (Barriers); Improving communication.
Practices in business communication; Group discussions; Mock interviews; Seminars; Effective listening exercises; Individual and group presentations and reports writing.
Unit-III : Writing Skills:- Planning business messages; Rewriting and editing; The First draft; reconstructing the final draft; Business letters and memo formats; Appearance; Persuasive letters; Sales letters; Collection letters; office memorandum.
Report Writing:- Introduction to a proposal, Short report and formal report;Report preparation.
Oral Presentation:- Principles of oral presentation; Factors affecting presentation; Sales presentation; Training presentation; conducting surveys; Speeches to motivate; Effective presentation skills-
Unit-IV :- Non – Verbal aspects of communicating.
Body Language:- Kinesics, Proxemics, Para language.
Effective Listening:- Principles of effective listening; Factors affecting listening exercises; Oral, written, and video sessions.
Interviewing Skills:- Appearing in interviews; Conducting interviews; Writing resume and letter of application.
Unit-V :- Modern Forms of Communicating:- Fax; E-mail; video conferencing; etc.
International Communication:- Cultural sensitiveness And cultural context; Writing and presenting in International situations; Inter-cultural factors in interactions; Adapting to global business.
---
B.Com 1st Year Introducing Business Communication Short Question Answers Notes
B.Com 1st Year Introducing Business Communication Long Question Answers Notes
B.Com 1st Year Self Development And Communication Short Question Answers Notes
B.Com 1st Year Self Development And Communication Long Question Answers Notes
B.Com 1st Year Writing Skills Very Short Question Answers Study Notes
B.Com 1st Year Writing Skills Short Question Answers Study Material 2018
B.Com 1st Year Body Language Very Short Questions Answers Study Notes
Body Language Long Question Answer For B.Com 1st Year Study Material Notes
Modern Forms Of Communicating B.Com 1st Year Short Question Answer Study Notes
Modern Forms Of Communicating B.Com 1st Year Long Question Answer Study Notes
BCOM 1st Year Business Communication Mock Test Paper Study Notes
---
B.Com Ist Year Foreign Trade And Economic Growth Question Answer Notes
[PDF] B.Com 1st Year All Subject Notes Study Material PDF Download In English
B.Com 2nd Year Books Notes & PDF Download For Free English To Hindi
B.Com 1st Year Notes Books & PDF Free Download Hindi To English
B.Com 1st 2nd 3rd Year Notes Books English To Hindi Download Free PDF
B.Com Ist Year Unemployment Short Study Notes Question Answer
---
Follow Me